NEWS
There are currently no notices to display.
Mizushima Plant Information
At the Mizushima Plant, we manufacture light motor vehicles and cars with excellent environmental performance that run on 100% electric power.
This is one of the few integrated production plants in the world that contains an engine assembly plant and a casting plant, where the entire car manufacturing process is carried out from the press shop to the final assembly plant.
Electric and gasoline-powered vehicles are produced on the same mixed production line based on a planned sequence that takes various conditions into account to determine the order in which they are manufactured.

Furthermore, all components made at this plant, including engines, undercarriage parts, and complete vehicles, are manufactured at a single central location. Logistics are one of the strengths of this plant, as it neighbors the Mizushima Port through which large car carrier ships can enter.
At the plant tour, you can watch a steel plate be shaped into a car from up close.
Production Models
MITSUBISHI MOTORS SPIRIT:Mizushima Plant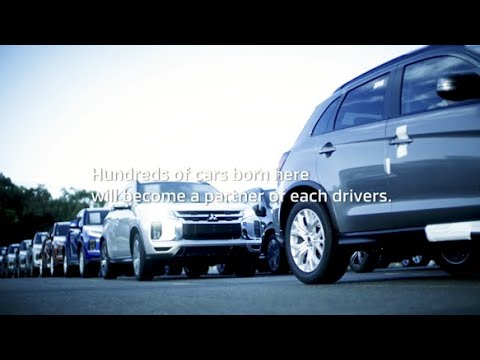 About Plant Tours
Reservation Process
Select your desired date and course on the website and make a (tentative) reservation.

We will contact you by email within 5 business days to let you know if we are able to comply with your tour request.

The reservation process is complete when you receive a confirmation email regarding your tour. (Reservation complete)
Tour Dates
Weekdays and public holidays from Monday to Friday (excluding business holidays).
Tour Languages
Tours are conducted in Japanese only.
If you prefer another language, please bring an interpreter with you.
Notes
At this plant, you will have the opportunity to walk around and tour the production line where the cars we provide to our customers are actually manufactured.
Please note that to ensure the safety of our guests, the following restrictions are in place for tours. Thank you for your understanding.
Children aged 3 years old and younger will not be admitted to the tour.

Guests of elementary school age and younger must be accompanied by an adult for the tour.

Hats are required for this tour. (We ask that tour leaders also wear hats.)

Please bring rain gear in case of rain, as we will be walking outside the plant. (Elementary school students should bring raincoats.)

Visitors wearing inappropriate footwear (heels more than 5cm high, sandals, and other footwear that expose a lot of skin, etc.) are not permitted to participate in the tour.

Photographs and videos may not be taken inside the plant. (The use of smartphones and tablets is prohibited.)

Visitors who are under the influence of alcohol are not permitted to participate.

Smoking is prohibited on the premises.

After you have made a reservation, we may be forced to cancel your tour or ask you to reschedule your visit due to production reasons.

Tour is about 1.5 km away on foot. (There are some stairs.)
About Tours
Maximum number of visitors:
For each time slot (3 plans), up to 5–25 visitors may participate in the tour.
 * For your safety, we are restricting the number of participants for each tour. If the number of participants will be greater than the number above, please divide your group and apply separately for different dates/times.
Tour Course/Schedule
Tour is a 90-minute course that includes an overview, press, welding and assembly plants, and a question and answer session.
Plan A: 8:30am–10:00am
* On some days, the start time of the tour can be adjusted between 8:30am and 9:00am. Please request an adjustment by Email after making your reservation.
Plan B: 11:00am–12:30pm
Plan C: 2:00pm–3:30pm
*From April 2021, the schedule will change as follows.
Plan A:

9:00am–10:30am


Plan B: 11:00am–12:30pm
Plan C:

1:30pm–3:00pm
Reservation Period:
Please apply by the morning of the day before your desired tour date.
(Note) After you have made a reservation, we may be forced to cancel your tour or ask you to reschedule your visit due to production reasons. Thank you for your understanding.
Access
Mitsubishi Motors, Mizushima Plant (Address: 1, Kaigan-dori 1-chome, Mizushima, Kurashiki, Okayama-pref., 712-8501)
From JR Kurashiki Station
Take the Mizushima Rinkai Railway from Kurashikishi Station to Mizushima Station and walk 10 minutes

25 minutes by taxi from JR Kurashiki Station
From JR Shin-Kurashiki Station
20 minutes by taxi from JR Shin-Kurashiki Station
Access by Car
15 minutes from the Mizushima IC on the Seto-Chuo Expressway
(Parking space is available for 4 buses and a number of cars)
Entrance Gate Information
Please enter from the Mizushima Plant East Gate and check in at the PR Center.
Contact
Inquiries by Email
Business Hours
9:00am–5:00pm on plant open days
Business hours are subject to change. Please confirm the business hours before your visit.
Closed on Saturdays, Sundays, and Mitsubishi Motors holidays (Golden Week, summer holidays, and winter holidays)